EXCLUSIVE: Unique Stocking Stuffers
Don't sweat the small stuff!
As always, drunkMall has you fully covered for the holidays. You could even think of us like an insurance policy for gift ideas!
Last week, we showed you how to take the power in to your own hands and turn the entire drunkMall website into whatever gift guide you currently need. (That was the Christmas Gift Guide Super Post, if you missed it.)
This week, we're comin' in hot with ten brand new and extremely unique stocking stuffer ideas to make sure all those big red socks are full of happy surprises!
Here we go…
#1 Skittles Socks
Starting things of with a little something the children call "swag."
'What's swag?,' we'll pretend you asked…
It pretty much just means branded clothing or accessories. You know, the type of corporate stuff all the cool kids made fun of in The 90s? Yeah, well, now it's considered desirable to align yourself with major brands. The appearance of being successful via association or something like that…
Skittles are dope.
Dope socks are dope.
Dope socks that look like a bag of Skittles are the dopest dope.
#2 Saved by the Bell Design Phone Case
If you don't have the Saved by the Bell theme song playing in your head right now then your Netflix priorities are way out of wack.
Zack Morris was probably the first "TV Kid" any of us saw with cell phone and this new phone case is a clever nod back to the past. Reminiscent of those crazy squiggles in the opening credits, this design is actually super clean even without the nostalgia tie-in.
Get into it.
#3 NES Controller Keychain
You or someone you know almost definitely had the Mini NES Classic gaming system on that wishlist this year.
Unless you got super lucky and managed to snag one in the three minutes before they sold out worldwide, that gift ain't gonna be under the tree this year. (And if you did get one – sell that shit! People are spending crazy money…)
Here's a little consolation prize – a sleek metal keychain designed to look like the original NES controller. It's small but it's something!
#4 Flashy and Cheap Sunglasses
You know the drill with sunglasses.
Spend $300 on a trendy pair of shades, those things are getting lost or stolen or broken within like a month.
Grab some $10 sunnies at a gas station?
They'll probably be burying you in those things!
So split the difference and pick up some sunglasses that look like they're on the rockstar level but the price comes with that low low.
#5 Abraham Lincoln Salt and Pepper Shakers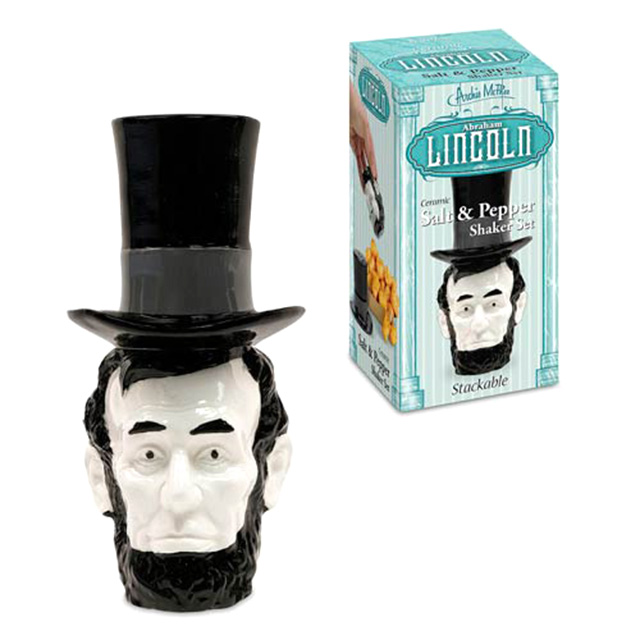 Alright this is just weird but the post is called "unique" stocking stuffers so what do you expect?
Here's something you'd get for that person who reminds you of Leslie Knope… Or maybe Leslie Knope's dad…
It's a stackable salt and pepper shaker set that looks like Abraham Lincoln and his signature stovepipe hat!
#6 Hot Lips Face Heater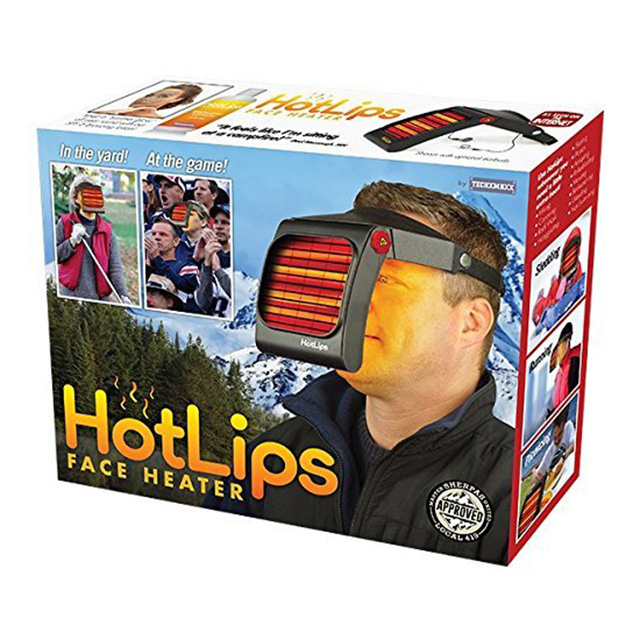 Oh, you thought the Honest Abe kitchen gear was weird?
That's nothing!
Here we have a wearable space heater hat, guar-an-teed to keep your face warm!
Seriously, who thought this was a good idea?
Oh, turns out nobody did because this is obviously not a real product. It's just a box from Prank Packs. They create boxes that look like they contain ridiculous and asinine products so you can watch the recipient try and figure out if they're tripping or not until they open the box and find the real gift!
#7 Cookie Magic Trick
Sorry for tricking you on the last item but, you know, tricking people is fun!
Here's an easy little present for that person who loves pulling the wool over other people's eyes. It's a near-foolproof magic trick prop that lets someone fake people out by taking bites from a "cookie" that always seems able to regenerate itself and become whole again!
#8 Unicorn in Lederhosen Tree Ornament
Listen, we're not even going to try and come up with anything to say about this.
It's a humanoid unicorn person in pink glittery lederhosen. If you don't know a person who needs this in their life, there's nothing we could say to convince you otherwise and everyone else is already clicking the buy button below.
Moving on…
#9 A Real Human Finger
The coal in the stocking thing is always around for a couple of good (read: bad) jokes every Christmas. But have you ever held a piece of coal? It's horrendous! Someone handling a piece of coal inside the house is just asking for trouble. There will be carpet stains.
So what do you give to someone who's on the naughty list?
Give them the finger!
Skulls Unlimited sells real human bones. Yeah, we've got questions about it as well but we're too afraid to ask so maybe just don't worry about it.
#10 Cat Butthole Pencil Sharpener
No, you're not being tricked again – this one is real.
It's a pencil sharpener that looks like a cat. You insert your pencil in a hole where that cat's butthole would be, the cat makes a "meow" sound (battery is included) and then you sharpen your pencil while feeling like a total weirdo!
Share this post!