EXCLUSIVE: The Weird and Wild World of Sex Toys!
Ladies aaaaand Gentlemen!
Step right up, right this way — to your very own treasure chest of personal pleasures!
This week we're transforming a small corner of drunkMall into a one-of-a-kind sex shop experience.
Maybe you've visited the local lion's den on a dare with some friends…
Hell, you might even be a regular customer down at the sex shop, browsing the aisles for that magical item that'll take your O face to new extremes. (And good for you, if so.)
And it's not like we've never seen this stuff before. drunkMall has quite a few post in the sex toys department on this site.
But listen up, friends: you are about to see. some. wild. shit.
OK!?!?!
Don't say we didn't warn you…
Now, obviously, this post is NSFW-as-fuck.
So if you aren't supposed to be looking at a bunch of fake dicks and pussies and buttholes right now on your computer or phone or whatever – save this one for when you get to a private place.
Ready?
#1 Vibrator Alarm Clock
Start your day with a bang, ladies!
A girl's best friend just got bester because this "smart vibrator" has an alarm clock built right in to it. The unique design and silicone material make this device comfortable to wear inside of your panties, uh, "in position," as it were.
Give yourself the ultimate wakeup call! Just program the time you want to come awake and you will – you really, really will…
#2 Blowjob Enhancing Candy
Teeth are (usually) the enemy of a good blowjob.
But if you've got a small mouth (or a huge partner) then there might not be much you can do about that.
You could wear one of those mouthguards the MMA guys wear.
Or…
You could hook yourself with some of these delicious gummy candies which basically do the same thing but also bring some yummy candy flavor to the situation.
#3 Three Foot Dildo
This obsession with penis size really doesn't make that much sense, people.
Seriously.
Ask anyone who regularly allows cocks to be put inside their body if there's such a thing as too big. Because for most people, there totally is.
But, since y'all never listen to our advice, here's the biggest fucking dildo we could find!
It's literally three feet tall and we're literally begging you to not attempt inserting it in your or anyone else's orifices. Just, like, put it in the foyer as a hat rack or something.
#4 Vibrator Phone Case
You do everything else with your phone – might as well fuck it!
Oh, come on…
You really didn't think most* people would be fucking their phones within 5 or 10 years?
News flash, it's happening way sooner than that because here's the world's first sex toy powered by the vibrations of a smartphone! It's not out yet but it looks like they're working on it…
*We said "most," alright? You don't need to send us Penthouse letters about how friendly you are with Siri. You're a sexual maverick – everyone gets it.
#5 Clone-A-Pussy Kit
You're probably well aware that DIY-ing your own custom dildo has been an option for decades at this point. (You can even make a chocolate replica of your penis!)
But did you know you can now do the same thing with a vagina?
It's true!
Supposedly, the finished product is even "usable," but nobody at drunkMall can confirm that. Okay, at least one person at drunkMall could confirm that but they won't, so you're on your own.
#6 Silicone Tickle Gloves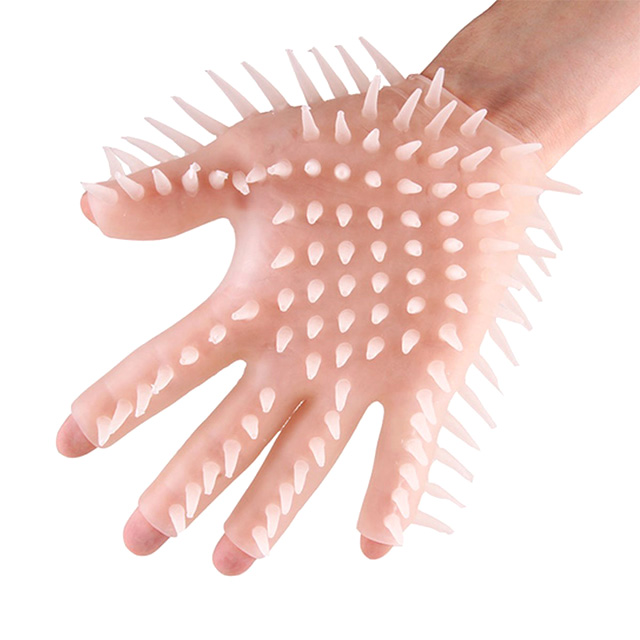 People are amazing.
Anything that's enjoyable to any degree, we'll take it and find a way to ramp up the experience somehow.
Like, tickling.
Come to find out, some people really love being tickled. Like, it's their favorite thing.
So what do we do?
Design some freaky looking gloves with soft silicone spikes on them.
Basically, if we equate tickling someone with an index finger to the explosion of a firecracker, then tickling someone with these gloves would be like detonating a stick of dynamite.
#7 Vibrating Oral Sex Snorkel
Okay, the idea of using a snorkel for oral sex is funny on like a third-grade level.
We'll admit that.
And, no doubt, this little toy is cheap enough to have found its way in to a white elephant exchange or gag gift basket here and there.
But if any of the people who took this thing home as a joke ever decided to give it a try, they might be pleasantly surprised by the results…
Not only do the tubes connected to the nosepiece really provide fresh air (as long as the back of the wearer's head is clear of obstruction) but the nosepiece itself has a vibrator in it!
You can figure out the rest on your own. Or with a friend…
#8 Cheeseburger Ball Gag
Bondage and burgers go together a lot better than you might think.
The proof is right here!
The Silencing Slider is a completely functional ball gag, made from food-grade materials – which just so happens to be shaped like a juicy little cheeseburger!
Who's a bad little meaty patty?
That's right – you're a bad little meat patty.
#9 Dickbutt Dildo
First of all, hello to all redditors and imgurians reading this. You're all really fucked up. But you know that and it's what makes you so entertaining.
Second of all, yes, the rumors are true. Dickbutt is real.
Someone went and made a sex toy that bears a striking resemblance to the ubiquitous meme creature, Dickbutt.
Here's probably all you need to know about it:
this dick's butt is fuckable
don't read the reviews
#10 Eggplant Emoji Vibrator
You made it to the end of the article!
As a reward, here's a totally non-threatening and cute sex toy that speaks to the current generation of sexting masturbators: the eggplant emoji vibrator.
Available to order now, the Emojibator has 10 vibration settings, is waterproof (for showertime and bath fun) and you get free shipping in the United States!
(Over 40 and trying to figure out why this is a thing? Ask anyone you know who has a Snapchat or Twitter account.)
[Want more products with a sexual theme that may or may not make any sense at all? You're looking for drunkMall's Sex Sells gift guide!]
Share this post!