EXCLUSIVE: Return to Twin Peaks
Welcome back to Twin Peaks, everybody!
It gives us unparalleled pleasure to bring this gift guide to you. drunkMall would have eventually written a big post all about Twin Peaks products because season one is literally the best season of television ever made and there is a seemingly endless supply of fan-created merchandise as a result.
The fact that a new season of Twin Peaks begins airing in just one month makes this post even more magical to write! We can already hear those sultry bass lines from 25 years ago…
Because the show could come back with the quality of that first season or it could totally return in the meandering form of the second season, which earned the show four Emmy nominations rather than the first season's fourteen Emmy nominations…
Either way, the time between now and then is a special month. As your love for this show prepares to level up or become some garmonbozia, head back to Twin Peaks by having a look at some of the coolest official and unofficial merchandise for this much adored show!
#1 Laura Palmer's Body Figurine
It all started with the discovery of Laura Palmer's body.
The death of a 17 year old girl unravels the quietly high strung town of Twin Peaks, Washington. Visitors may never guess there was more to the place than good pie, damn fine coffee and fantastic Douglas firs.
But a closer look reveals that Twin Peaks was always capable of having a teenage girl wrapped in plastic turn up on the bank of a river. You can get a very awesome Funko Pop figure of that girl right here.
#2 Map of Twin Peaks
Even veteran fans of the series (and movie) may never have spent much time thinking about where all of its locations would be in relation to each other. Turns out somebody else has because this is a highly detailed map of some main settings in the (not real) town of Twin Peaks!
Big Ed's Farm, The Sheriff's Department, even Owl Cave and other spots are rendered on a artist's rendering of the town grid and surrounding area.
#3 Damn Good Coffee Print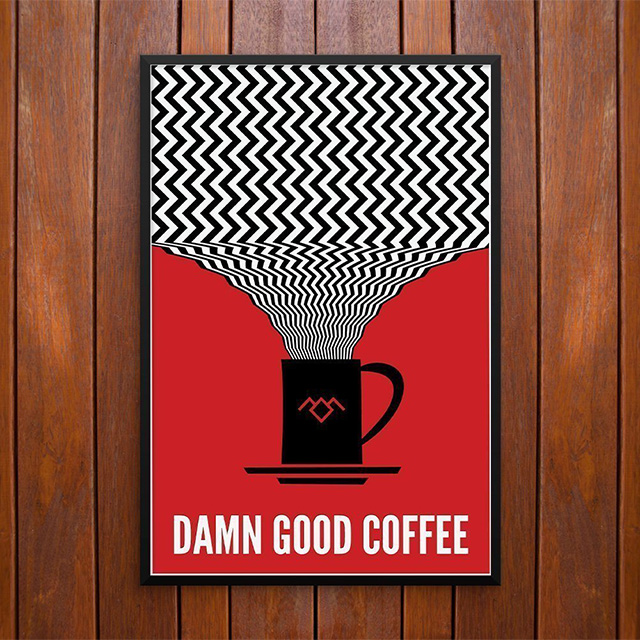 If there was a non-annoying way for us to write some of this post in tribute to the backmasked conversation from those dream/Lodge sequences, you can bet we'd have already done that.
This poster is one person's tribute to the show. Many elements of Twin Peaks have been imitated to great effect but nobody has ever successfully ripped off the events that transpire in the otherworldly rooms with that floor pattern with the Man from Another Place.
Twin Peaks has damn good coffee but if you turn everything upside down then you might be surprised by what pours out…
#4 Coffee Colored Vinyl Soundtrack
Angelo Badalamenti's score of Twin Peaks deserves major recognition. Saxophones and electric pianos over finger snaps and immensely catchy bass… It's irresistible.
It's never looked more beautiful than this special vinyl edition.  That color of wax is called "Damn Fine Coffee." Other great things hidden in that lovely packaging include a lyric sheet and liner notes from Angelo.
#5 Twin Peaks Inspired Recipe Book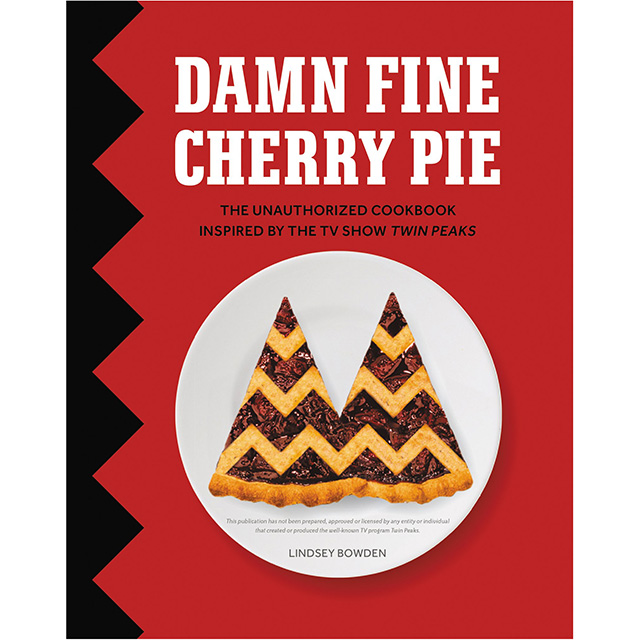 How many times have you watched people eat pie on Twin Peaks and wondered how it actually tastes? Everyone who eats it seems to give it rave reviews…
Find out with Lindsey Bowden's unauthorized cookbook of 75 recipes inspired by the show and the food featured on the show. Fun to try recipes along with those featured in a given episode or just to finally know what that cherry pie tastes like. (Of course that recipe is in here.)
#6 Welcome Sign Lunch Box
There's always something happening out there, regardless of the fact that you just sat down to get some food. Not a problem. Simply wrap up that meal and stow it away in an old-fashioned tin lunchpail!
The top of the lid and back of the lunchbox show the Twin Peaks welcome sign, which is seen at the beginning of every episode.
#7 The Great Northern Room Keychain
So much of Twin Peaks' story takes place in the Great Northern Hotel that you may feel like you've spent the night there yourself.
You can visit the hotel in the building that serves as the exterior of the Great Northern Hotel and you can visit the building that serves as the interior for the the Great Northern Hotel (at least in the pilot) but you can't visit both at the same time because it's not actually a real place.
Despite that, you can still get a keychain that makes it look like you not only spent the night there but left with your room key!
Ah, petty larceny – such an Audrey Horne thing to do…
#8 Log Lady Complete Skateboard Setup
Skate deck artwork has a solid track record of being awesome, so it's not so surprising that someone out there (Habitat) made a Log Lady skateboard. The incredible artwork was created under official license, so you could even think of it as being Log Lady approved!
Every order comes with a complete setup including everything you need to get out there and have some good clean fun on a skateboard.
#9 Log Pillow
And if you've ever wondered how a person could develop an affectionate relationship with a log of wood (even though a perfectly rational explanation is given to you in the show), well you can just get your own log to cuddle around with everywhere.
Bring it with you to work or school or lunch at the local diner. You know, all the places you'd take a log.
Technically, though, it's a pillow. So you may enjoy snuggling up with it during particularly scary portions of Twin Peaks!
#10 Chevron Makeup Bag
Twin Peaks unique visual style is a big draw for the aesthetically inclined. Seemingly perfect places, people and scenes are literally and figuratively revealed to be far more than meets the eye…
The show's obsession with beauty is so overt that there's even a literal beauty pageant at the end of the second season. Therefore this makeup bag (in a chevron pattern reminiscent of the Lodge flooring) the perfect place to store your beautifying essentials.
Handmade by asoftblackstar, one of the best sellers on Etsy for the makeup and beauty crowd.
#11 Autographed Lara Flynn Boyle Sexy Photos
Speaking of beauty, let's not forget that Twin Peaks is what put Lara Flynn Boyle on the map for almost everyone. The original Donna is shown here in a couple of promotional photographs. One's a little sexy and the other, well, it's a little sexy too!
The autographed photo set comes framed.
#12 One Eyed Jacks Poker Chip Pin
One-Eyed Jacks is where so many people tried their luck with one vice or another.
Now you can look as though you spent last night partaking in dubious activities by wearing an enamel pin that looks like the $1000 One-Eyed Jacks bitten by Waldo the myna bird! As the chip plays a pivotal role in the investigation of Laura Palmer's murder, the pin comes in a plastic "evidence" bag.
#13 Wanted Bob T-Shirt
At the end of the day, it was all about Bob.
Frank Silva won't be returning to play the demonic entity known as Bob because life is a bitch. This t-shirt does a pretty good job of summing up the response many of us will have to the new episodes, no matter how good they are.
"Have you seen this man?," with a drawing of Bob. No spoilers but Bob is a very bad thing. You don't want to know Bob.
Share this post!