Research suggests that many drunken online purchases include a pair of shoes or a shoe accessory. If that's what you people want, then here's whole post full of some epic kicks for you to rock this summer!
We've also got some little things to help you make the shoes you already have look even better, stay looking better, help you light your way on nighttime walks and even a set of rocket skates.
Keep scrolling to look at it all!
#1 Shoe Wings
You can add shoe wings to any pair of lace-ups!
Just unlace the shoe down to where you want the wings and lace them back up going through the lace holes on the wings!
The gold color looks fly as hell but the shoe wings are available in many other colors so be sure to hit up the link and browse for your color…
#2 Expedition Lights
Walking at night is a pretty common activity for drinkers.
Accumulating injuries from night walks, also a common activity for drinkers.
Put some light on your immediate path with these handy shoe lanterns!
They clip to just about any kind of shoe that most people would be wearing on a walk. You can choose between white LED or red for the light you want, handy to tell people apart if you want to play a sport that's safe to play at night.
It takes AAA batteries, so you'll need to stock up on those.
#3 Kitten Heels
If you don't know the brand name Irregular Choice then it's terrifying how bad you need to be reading this post. Good thing you're here!
They make some of the most badass shoes you will ever see. This isn't the only pair of their shoes in this post and can clearly tell why…
Called the Kitty Paws, these heels are like a sleek black cat for each of your feet!
The back of the toe features two cute little ears and there's even a tail hanging in the back. The ankle strap closes with a heart-shaped clasp and if you look closely you can see it's made of a fabric with a discreet heart pattern.
#4 Modern Moccasin
Okay, you might think it's weird to show up looking like you're wearing socks.
Well, it's definitely pretty weird to show up wearing nubuck moccasins, if that's what you're worried about. But moccasins are comfortable footwear, so start getting used to the idea of looking like you're wearing socks.
Thick socks with all the seams up top so they'll last longer and kevlar on the sole! They're modeled after a classic moccasin design with a loop on the back to help pull them on.
You can wear them inside shoes if you really want. Sometimes it gets cold.
#5 Hydrophobic Shoe Treatment
Moisture is bad for most shoes.
It's a lot of what makes shoes get gross. This inexpensive spray adds a hydrophobic layer to shoes and boots. And actually it's even a superhydrophobic spray that lasts a really, really long time. Not only does it keep water from absorbing into your footwear but it helps keep your shoes clean!
#6 Futuristic Gladiator Platforms
Here's something for all the ultimate warriors who time-traveled here from the year 2096.
We don't have any idea what kinds of beasts you were battling in the future but in 2017 you'll be slaying literally everyone in these platforms!
The stacked soles put 3 inches beneath your feet and reflective hologram straps run 15 inches up your calves.
#7 Gorilladidas
Jeremy Scott should probably be designing kicks for Vans because his shoes are off the wall!
Get it?
Okay, sorry. Whatever.
Everyone knows Jeremy makes sneakers for Adidas. They're some of the most unique concepts in the history of fashion. Every shoe is crazier than the last.
This pair of Adidas has a full-on gorilla at the top of the shoe, with arms and a t-shirt and everything.
Oh, also, they cost money. Real money.
#8 No-Tie Lacing System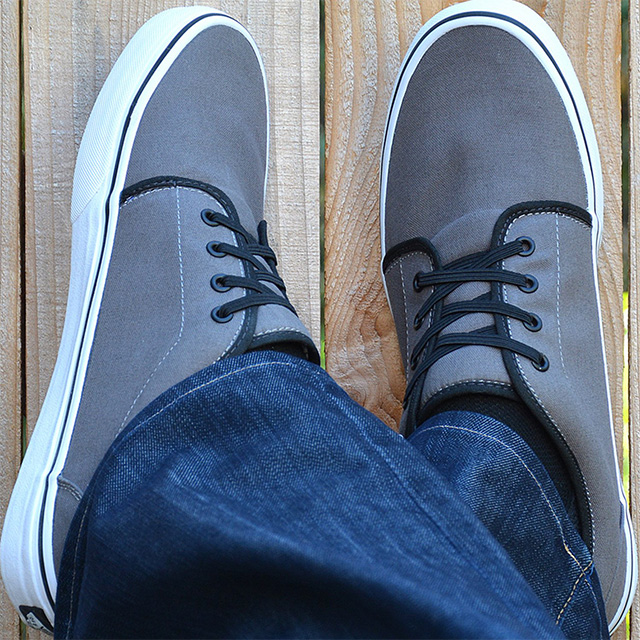 Whatever shoes you're wearing, they should look good.
Especially if you've got a pair with some cool patterned fabric or something like that, you wanna show that shit off!
Get the laces out of the way with this clean no-tie lacing system.
The kit comes with everything you need to install elastic laces on your shoes to never need to have a childish bow hanging all over it!
#9 Vader Flats
Have you ever seen something as geeky as these flats?
No. You haven't.
They're fantastic.
Another piece from Irregular Choice, these Star Wars shoes prominently feature Darth Vader in gold embroidery on the toe of each flat. The soles are stunning high quality images of other characters and scenes from the Star Wars movies.
Also, the backs of the shoes have the words STAR WARS on them, one word on each shoe.
#10 Rocket Skates
Yes, for real.
It's almost like a roadrunner cartoon come to life with these rocket skates.
They aren't really rocket powered. You would probably die if you really tried that, so, you know, don't.
What these really are is heels on wheels (just came up with that).
Battery operated shoe attachments that can carry you up to 5 miles at up to 7 miles per hour!
Take yourself to Lazytown. It's a nice place to live.
Share this post!