BEST OF: Bill Murray Fan Art!
Bill Murray is the man.
If anyone can be called a living legend, it is this man.
Bill Murray has always been the coolest, from the very beginning. Somewhere in the '90s, hipsters acted like they discovered him, which is actually great because it helped him stay in the public eye – making great movies and providing the Internet with some of the best modern folklore around!
He could pop up at any moment.
Bartending at SXSW, playing in some local golf tourney, nodding his head next to you at a Wu-Tang show…
Hell, he might even walk up behind you and tap you on your shoulder just to let you know that nobody will ever believe you if you tell the story of it happening!
In any case, we've come across quite a lot of pretty amazing Bill Murray fan art in our time running drunkMall. The best of it is over at Society 6 and that's where everything below was found. The great thing about Society 6 is that they offer their artists' designs on all sorts of products – mugs, phone cases, shirts, rugs, blankets, canvas art prints, tote bags, etc.
If you see something you like then make sure to check out the link for it to see if you can get it on an item that makes it 100% perfect for you!
#1 Swamp Leeches Print
Who doesn't love Steve Zissou?
Everything about the universe Wes Anderson built around Bill Murray in The Life Aquatic is excellent, so you'd better believe there's no shortage of amazing fan art!
This fittingly retro print was inspired by the hilarious "swamp leeches" scene!
#2 Regal Rug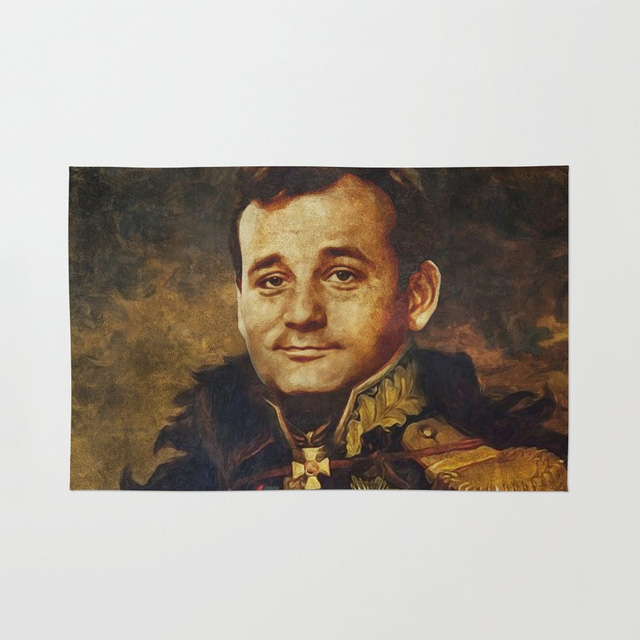 There's no basis in reality for this one.
Unless you have evidence that Bill Murray is secretly a time traveler who once lived as a highly decorated officer in some ancient European army, in which case, please send us all the information you have.
Probably someone just took Bill Murray's face and shopped it into an old painting of Napoleon or something – but it looks rad!
#3 Venkman Pillow
Time for a little recap.
Ghostbusters is the best movie.
Venkman is the best Ghostbuster.
It's not up for debate but this Venkman pillow is for sale. It's from the scene with Slimer!
#4 Smoking Blume Comforter
Is there an official movie for when you call in sick to work or cancel other plans for no reason except that you don't want to talk to or see any other people?
That movie should be Rushmore.
Specifically, Herman Blume's scenes in Rushmore. Blume is your spirit animal. He's rich as shit and hates everyone. That's life goals right there.
Live your best worst life hiding from the world under this comforter of Herman Blume smoking a cigarette.
#5 Suntory Canvas Print
Maybe not everyone reading this was a fan of Lost in Translation.
That's okay.
You're wrong but that's okay.
"Jaded star in a foreign land" is pretty much the act Murray's always been doing (on and off screen) but it took some of us seeing him bumble through social interactions set in Japan for it to really click into place.
For relaxing times, gaze upon this high quality canvas print of Murray's Suntory Times pose.
#6 Groundhog Day Poster
Okay, real talk.
Anyone who somehow ended up on this website without ever having seen the movie Groundhog Day needs to fix. their. life.
Are we clear on this?
There are too many reasons why it's awesome to list them here. Besides, most of you have seen it and you already know!
Pick up this epic fan-made poster for Groundhog Day!
#7 Zissou Sane Print
One of the little things people love about The Life Aquatic is the spectacular Seu Jorge doing acoustic renditions of classic David Bowie songs throughout the film.
At least one fan decided to have a little fun with the interplay and put the famous Aladdin Sane makeup on Steve Zissou!
#8 Four Murrays Bath Mat
Can't decide which Bill Murray character is your favorite?
Or at least which one you want to geek out over enough with a swag purchase today?
Totally normal.
We've got you covered, too!
This bath mat features four of Bill Murray's best loved characters on it! There's Venkman and Sizzou, whom we've already mentioned here, but also Carl from Caddyshack and Bob from What About Bob?
Remember, every design in this post comes from Society 6 and is available on other items!
#9 Framed Steve Zissou
Alright, this is the last Zissou but check it out.
The resolution on this is so high that it might as well be a photograph. Since you can get framed prints from this site then this framed print of Steve Zissou can go on your desk at work like he's a relative of yours!
#10 Space Bill Tote Bag
If you didn't want any of the things you'd already seen in this post then you're a total space case because that stuff was all awesome.
Last chance, someone swapped Bill Murray's head onto an astronaut and you can get the finished product on a tote bag!
Share this post!