EXCLUSIVE: Gifts for Your Inner Villain
There's a small part in all of us that hopes the best villains will win. Not all villains – only the best ones. And it's not like if we really lived in Gotham or Sherlock's London we'd actually be hoping for The Joker or Moriarty to have their way, destroying countless lives for no other reason than to satisfy some deranged mental itch…
But when it's all in a story, where's the harm in having a soft spot for the bad guy?
So this gift guide is for everyone who always roots for the monster a little bit. After all, villains aren't born, they're made…
[If you know of a product that you think deserves a place in this post, show it to us in the comments and we'll check it out!]
#1 Bane's Fur-Lined Leather Coat
With an origin story that would pull at anyone's heartstrings, Bane legitimately believes he's fighting for the people, against the corrupt millionaires and billionaires of Wall St…..
Whoa, whoa… Sorry!
We're talking about Bane, here, not Bernie…
Played by Tom Hardy in 2012's The Dark Knight Rises, Bane wears an uncharacteristically fashionable fur-lined leather coat. It's the kind of coat that gets a man noticed, especially with that humongous collar popped!
It's a cold world out there. Stay warm!
#2 Moriarty on Canvas
Professor James Moriarty has far fewer redeeming qualities than maybe any other criminal mastermind on this list. To wit, we've almost no reliable information on Moriarty's background or motives. Seemingly, his level of intelligence, which seems to dwarf that of Sherlock Holmes at times, simply makes life amongst the common person dreadfully and unbearably boring.
Fair enough, James.
In the hands of Andrew Scott on the BBC series, Sherlock, Moriarty is perhaps the most entertaining archnemesis in history. Wildly unpredictable, given to histrionic behavior and a distinct megalomania boiling just beneath the surface – he's a true agent of chaos, to borrow from another man on this list!
The only fitting tribute to a character so obsessed with appearances and propriety is this canvas print, featuring Moriarty pulling his best "Oops, did I do that?" face.
#3 Maleficent Cameo Pendant
Since 1959, the evil figure of Maleficent has been responsible for the nightmares of small children who've seen Disney's Sleeping Beauty. We all remember it – the climax of the movie is unforgettable: Maleficent hurling lightning bolts at Prince Philip, sending a forest of living thorns after him and, finally, turning into a seriously pissed off dragon for the final showdown.
We got a different look at the character in 2014, when Maleficent was released to show the other side of the story. Whichever version of the fairy enchantress you prefer, show off your devotion with this small cameo pendant. About 2.5″ in height and set in a bronze cameo, it's as wicked as jewelry gets!
#4 Beetlejuice Statue Candy bowl
It's the reigning champion of the so-fun-you-forget-he's-evil category: Beetlejuice! Beetlejuice! Beetlejuice!
In 2015, Winona Ryder told Seth Myers she's confirmed to play Lydia Deetz again in a sequel to Beetlejuice! Get ahead of that bandwagon now with this statue/candy bowl combo!
The Beetlejuice figuring stands 18″ tall and the bowl is removable. So you can use it to hold anything else that fits in the arms or keep the bowl and stock it with sugary treats to have you shake, shake, shaking, Sharona – shakin' all de time!
#5 Cruella de Vil Bag
And we've gotta hop back to the Disney universe to give props to another wicked woman: Cruella de Vil.
Animal lovers have no heart for this fashionista with a hankering for a fabulous fur coat made of dalmatian puppy hide. But there are still some style queens out there who sympathize with her cause. (Like, if the coat were made of synthetic fur, you'd wear it, right? Right.)
Here's a nice little tote bag with a fan-drawn Cruella looking her deVilish best on a field of, what else, dalmatian pattern.
#6 Agent Smith Sunglasses
Kinda like if HAL-9000 had a human form and wasn't programmed to be polite, the Agent Smith program's mission was to keep The Matrix running smoothly, which he did by running processes that found most of us talking for hours in coffeeshops, trying to understand what in the Hell was going on in the movie we just watched.
Did we mention he looked damned handsome the whole time? Agent Smith was a sharp dressed man, no doubt. Always decked out in a custom tailored suit. And who could forget those one-of-a-kind shades?
Lucky for you, those sunglasses found a way out of The Matrix and are available to order through the link below!
#7 Alex DeLarge Minimalist Sticker
You may not have known his last name but you know what sort of mayhem he and his merry band of droogs let loose in the future of A Clockwork Orange.
He shouldn't be likable at all – that much is for certain. There's no need to get into the old ins and outs and ins and outs of his rap sheet but it's vile and unforgivable, to say the least. But Malcolm McDowell plays Alex with such intensity and contempt, there's something about the performance that has you feeling for him.
These die-cut vinyl stickers are about 5.5 inches long. Viddy well!
#8 The Joker in Jail Clock
Jack Nicholson was a stupendous Joker in 1989.
But twenty years later, Heath Ledger threw down a gauntlet that will never be picked up by anyone else who takes the role in the future. Perhaps his death lends greater weight to the performance but, honestly, it would be a legendary testament to method acting even if he were alive today.
The thing about The Joker, in the DC Universe, is that he's always getting caught. Time after time, he gets nabbed and thrown back in Arkham. And he almost doesn't even seem to mind that much. Because he knows. He knows he'll get out again soon enough and that, when he does, chaos will reign again, as long as he walks the streets.
Bide your while with this clock that shows The Joker calmly sitting in custody, waiting for playtime to roll back around again!
#9 Darth Vader Purse
If you clicked this gift guide to find out where you can buy that Hello Kitty Darth Vader helmet, here's the thing: that's not for sale anywhere, as far as we know.
We looked into it and couldn't find it anywhere.
Sorry!
But we did find this Darth Vader purse, for all the ladies who live on the Dark side of life! The crossbody straps are adjustable and the inside of the 3D molded purse has one pocket for separate storage of evil essentials.
#10 Patrick Bateman Business Card Phone Case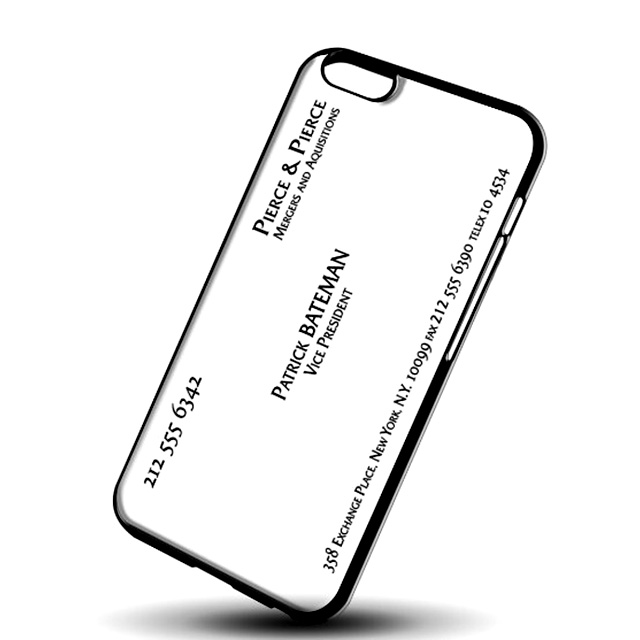 While there's technically nothing offensive about this seemingly innocent phone case, chances are good that at least a few of your coworkers will be pretty damned uncomfortable about you self-identifying with the serial killing Patrick Bateman from American Psycho.
Vice President of Murders and Executions, er, Mergers and Acquisitions, Bateman is Bret Easton Ellis' response to the rampant greed, misanthropy and virtual nihilism of Wall Street culture in the late '80s of New York City.
First-time viewers of the movie adaptation often completely miss that it's meant as satire, partly due to Christian Bale's dedication to the morally bankrupt and murderously sociopathic character of Patrick Bateman. Say what you will of the man, he appreciated a damn fine business card.
And don't even get him started on Huey Lewis!
Share this post!