Alright, people, you know the drill!
One after another, the years keep on coming. Time flies, who can keep track of the years, etc., etc. That's what calendars are for, you know. Here's the problem, though. Every year ends with Christmas and New Year's Eve. With all that insanity going on, you probably won't even think about getting a new calendar until January, when all the good ones are already gone.
As usual, drunkMall has you covered. Scroll down for a post full of 2018 calendars for all (and we mean all) personality types. They're all in stock – for now! Grab your new calendar, put it in a drawer and it'll be right there waiting for you when the new year rolls around. No empty shelves at the store, no waiting in lines behind people returning shitty Christmas presents, all good.
Who loves ya, baby?
That's right – drunkMall does.
#1 Super Mario Bros. Wall Calendar
"I don't need a calendar because I have a smartphone."
Shutup. Just shut the hell up.
Calendar apps are just one more notification in the steady stream of dozens you get every day. We've all set an alert, received it and then promptly forgot about it within 15 seconds. Hang a calendar on a wall, write important stuff on it and there it will be for days and days ahead of time. You'll see thing you need to remember way more than just once (or twice with a backup alert).
Plus there isn't a Nintendo calendar app, so the only way to add some retro video game vibes to your schedule keeping is with this Super Mario Bros. wall calendar! A scene from a level in the original game for every month!
#2 Buffy – 20 Years of Slaying Wall Calendar
One of the most popular TV series ever has been around for 20 years, so you know what that means: 20th Anniversary Buffy the Vampire Slayer Calendar, yall!
Your favorite good girls and bad guys are all here, like they never left, like you didn't spend the last 5 years forgetting they exist.
The secret star of this show is those 90s fashions. The torture never stops…
#3 Daily Hunk Calendar
Monthly calendars are good. They're fine.
But when it comes to hunks?
When it comes to hunks, you don't want one hunk per month. You want a new hunk every single day of the year. That's why 2018 Daily Hunk Calendar is here to fulfill your desire to see a brand new beefcake with every 24 hours' passing!
#4 Daily Disney Calendar
Now that Disney's been around for nine hundred years, they've got more than enough scenes to fill out a daily calendar as well.
Heads up – they've been making (and updating) this calendar for years and it sells out early pretty much every single year. This is Disney, they know how much product to ship.
If you want a daily dose of Disney in the year 2018, get your Daily Disney Calendar while they last!
#5 Goats of Anarchy 16 Month Calendar
Goats don't give a fuck.
Some of y'all with goat-like tendencies don't like planning ahead. You're not into the idea of buying a calendar that you can't start using right away. Well, this Goats of Anarchy Calendar can be put to use as soon as you get it because it cover 16 months, from September 2017 (that's now) to December 2018!
#6 Prince Calendar
His Royal Purpleness, gone but not forgotten, is the focus of this one.
Honestly, you probably shouldn't hang this one up anywhere outside of the home. For one thing, it's so amazing that you'd always have to worry about someone stealing it. For another thing, it's so sexual (even more so than the hunk calendar) it could literally get people pregnant and you don't want to deal with that.
2018 Prince Calendar – get it while you can!
#7 MoMA Perpetual Calendar
Maybe you're here looking for a good deal?
Calendars are so… disposable.
You buy them, you use them, they become outdated and get thrown away.
Not with a perpetual calendar! Perpetual calendars are designed to be used again and again, no matter what year it is. No, it doesn't say what year it is but if you can't keep track of that then you've got bigger problems than a calendar can fix.
This perpetual calendar comes from MoMA and really does look like an art piece. Maybe it technically is an art piece. Who knows. You'll have a long time to think about it because you can use it forever.
#8 People of Wal-Mart Daily Calendar
Just because you stopped checking People of Wal-Mart a long time ago doesn't mean there stopped being people in Wal-Mart.
They're out there… And they're gonna get you… laughing along with the People of Wal-Mart Daily Calendar – 365 days of the craziest crazies to step foot in wally world…
#9 The Adventures of Business Cat Calendar
There's something about a day at the office that brings out the inner cat in all of us.
Perhaps we walk through the doors in the morning with every intention of completing a solid day's work. But by the end of the day, the idea of pushing cups of coffee off the edge of the desk just to watch them spill becomes highly entertaining. You wouldn't actually do it, of course, but Business Cat would.
The Adventures of Business Cat 2018 Calendar is here to indulge your worst feline attitude about the workplace.
#10 Spirited Away Perpetual Calendar Figurine
We're probably not ever going to get a Spirited Away sequel, face it.
Or, rather, No-Face it with a Spirited Away Perpetual Calendar Figurine. Fan favorite character No-Face is shown slogging through the waves and the day/date can be changed with cubes in the figure's base.
No part of this is edible.
#11 Dragon Sex Calendar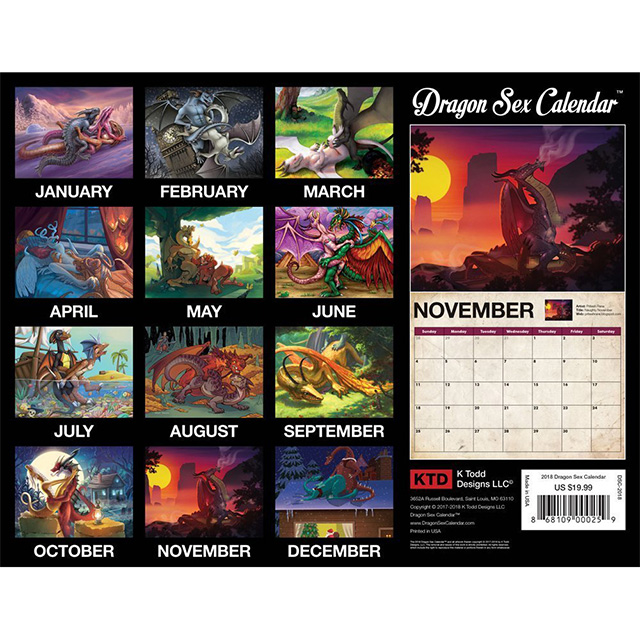 We've posted it before but it deserves a spot here.
The 2018 Dragon Sex Calendar is a life-changing work of art. Your life can be divided into two parts – before you knew this existed and after you learned of its existence.
Dragon sex, people. It's real.
Share this post!