EXCLUSIVE: Beer Pong Upgrades
There are other drinking games but very few other drinking sports have achieved such widespread popularity as the illustrious endeavor of Beer Pong.
Yes, if bowling is a sport then beer pong is 100% a sport.
As a party pastime, beer pong is nearly perfect. It's high action, fun to play, entertaining for spectators and, perhaps best of all, large quantities of alcohol are consumed during gameplay.
That being said, it's been around for decades now, so there are a number of upgrades that can be made to the game of beer pong and today we're going to look at some. From playing a cleaner game of beer pong, to beer pong on the go, even devices that revolutionize the structure of the game – this is a list of beer pong enhancements that every top level player should know about.
Trust us, we're professionals. (In fact, you can check the party time department of the site for more proof of this.)
#1 Mountain Pong
Level up your beer pong game – literally – in one move by snagging a set of Mountain Pong racks!
What is this insanity?!
The Mountain Pong rack is actually two six-cup racks back-to-back with the farthest rack angled up an incline, you know, like a mountain. That's two more cups than a traditional rack but you can play the rest of your game exactly the same as a regular game of beer pong.
Or…
You can play in "Climb the Mountain" mode, which is where cups must be hit in order from the bottom to the top.
#2 Beer Pong Table in a Briefcase
Need a regulation sized beer pong table everywhere you go?
Not a problem!
This pong table folds down into its own briefcase-style carrying case. All you need is a flat surface (and of course the cups and balls) and getting a game going is only a few moments away!
#3 Tailgate Beer Pong Table
There's no need to even worry about bringing a table anywhere as long as there'll be a place there to park your truck!
This tailgate attachment installs in less than 10 minutes to make a beer pong table a permanent part of your pickup truck. Drop the tailgate to reveal a molded surface with formed cupholders guaranteeing a perfect rack and no surface sliding.
Remember, drinking and driving isn't cool. Don't do it.
#4 Automatic Beer Pong Ball Rinser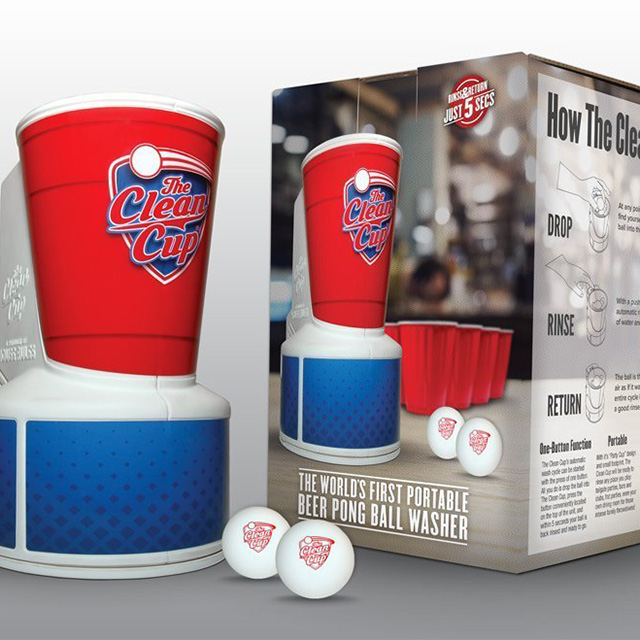 Some years back, during flu season, just about everyone realized that filling game cups with beer and drinking it probably wasn't the smartest idea. So now most people fill beer pong cups with water and take their drinks from a bottle or can of beer.
But with all these new-fangled ways to play beer pong on the go – beaches, parking lots, campsites, etc. – there are more ways than ever to get nasty crud on the game ball. So here's a convenient solution for keeping that in check.
Taking a cue from ball washers on golf courses, this battery-operated ball rinser cleans the pong ball in seconds!
#5 Play Anywhere Beer Pong Tables
Can't find a level surface large enough to fit a pong table?
Turns out, you don't even need a beer pong table to play the game!
These standalone racks can be taken pretty much anywhere for games on the go. Use a length of rope to make sure they're placed an appropriate distance apart and start taking shots, bro!
BONUS: If you remove the stands, the racks float. For real.
#6 Floating Beer Pong Cooler
When you know ahead of time that you'll be playing in water, this beer pong pool float is totally the right move. There's a freaking cooler right in the middle of the table – complete with a lid to keep a ball from getting lost in there!
Now, you obviously won't want to use this in a heated pool since it would melt the ice in a cooler. And, of course, when nobody wants to play then this also serves as a regular pool float.
Amazing!
#7 Bulk Beer Pong Balls
Even if you never play a game of beer pong outside of your house, you're going to go through dozens if not hundreds of pong balls throughout your career. They get damaged, broken and lost just as easily as you'd expect from a tiny ball being thrown around by a bunch of drunk people.
You need a lot of balls, in other words.
#8 Spinning Beer Pong Rack
So you think you're a crack shot at the table, draining cup after cup like it's nothing, one hand tied behind your back – blah blah blah…
Maybe it's time to push yourself to new extremes with a beer pong revolution!
Many revolutions, in fact…
This is a battery operated beer pong rack that spins the entire rack in a circle during gameplay! It's a lot easier to hit those cups when they're standing still, hombre.
[The reviews on this product are fairly mixed. Make sure to read them before purchasing.]
#9 Battleship Beer Pong
Here's another new twist on the very structure of the game.
Borrowing some elements from Battleship, Battle Pong is a set of assorted discs that sit above the water in game cups and direct gameplay as they're hit. If you're interested in this, you should also check out Fire Pong, which borrows from Capture the Flag.
#10 Interactive Electronic Beer Pong Table
Okay, you've seen it all and done it all.
Played every variation on the game of beer pong, placed first in every tournament you entered, there's no question that you're the best there ever is, was or will be.
Where do you go from there?
Well, if you're ready to drop some serious coin then you should know about these jaw-dropping interactive LED tables. It looks amazing, of course, but it also responds to the game currently being played. When a cup gets removed, it triggers one of several animations contained in the table and keeps score.
Remember those portable ball rinsers from above?
This table even has one of those built in – plus an air dryer!
[Make sure to read drunkMall's Best Drinking Games Ever gift guide for more great drinking games!]
Share this post!