FOOD FAD: Tacos Everyday!
Forget about Taco Tuesday.
No, this isn't about trying to change it to Taco Thursday…
You're gonna have to think bigger than alliteration where we're going.
In fact, go ahead and start doing whatever mental exercises you usually use do to prepare for taking in a new concept because this is one you won't hear often: what if we just ate tacos whenever we want to eat tacos and it didn't matter what day it was?
It's just crazy enough to work and here's how we're gonna do it:
#1 Tortilla Toaster
Soft tacos aren't everyone's idea of a good time.
That's rad but the hardshell options at most grocery stores usually aren't the best. Here's a quick and simple way to upgrade those soft tortillas at home – it's a taco shell toaster!
The cage drop system lets you hold a corn or flour tortilla in a traditional taco shell shape while it's down in the machine getting crisp and toasty to your timer setting!
#2 Taco Life Tee Shirt
Even if you're all-in on that Taco Life, there's still something a bit much about wearing an actual Taco Bell t-shirt to Taco Bell.
That sweet TB tee is still a "two thumbs up" fashion decision anywhere else you may be going, obviously. But wearing a Taco Bell t-shirt to Taco Bell is like wearing a band t-shirt to that band's show. Some people are into that and some people aren't.
Parody shirts are fully allowed. This is a Taco Life shirt for everyone who's living it!
#3 Taco Truck Lunch Bag
It doesn't require too much work to live the taco way. All you need is the right tools and the smallest amount of preparation. Taking your own lunch is a great method to ensure you don't miss out on your daily taco intake!
Here's an insulated lunch tote that's easy to clean and shaped like a taco truck. What more could you possibly want?
#4 Taco Takeover Game
Life is a series of moments in between tacos.
There are many ways to pass the time. You could have a job, which helps make sure you have money for tacos. You could try having some friends to talk about tacos with and you might even want to have fun and play games with those friends!
Taco Takeover can be played by two people or up to four people and it's way simple to play. In fact, they recommend it for ages 6 and up, so tipsy adults should be able to understand and enjoy it!
#5 Taco and Avocado Shorts
Wow, these are nice shorts for taco lovers!
You gotta love that taco and avocado theme. Note the hot pepper and hot sauce in there as well!
A 7 inch inseam for most people puts them in the desirable range between creepily short and a goofy "baggy" length. The waistband is elastic but you get a stylish blue drawstring for extra security if you like.
#6 Taco Cleanse Diet Book
See, it's not so crazy to think we can eat tacos whenever we want.
The recipes in here are all for vegan tacos but the point is that there's apparently a whole book to help you eat as many tacos as you like!
It's called a tortilla-based diet and remember that homemade tacos are like playing jazz. You can basically do whatever you want.
#7 Taco Grilling Rack
Tacos at a barbecue?
Yeah, it can and does happen, if you party with the right people.
You already know you can upgrade soft tortillas to crispy using the taco toaster from the top of the list. But then you're running back and forth from the kitchen to fix your tacos.
The solution is here: a grill rack for taco shells!
#8 Purple Taco Socks
For the style conscious taco lover, it's all about the accessories. (After all, you amateur taco eaters will need something to distract from the spilled taco ingredients on your pants!)
With purple and yellow and green colors, it's a rare outfit that wouldn't be enhanced with a flash of these taco socks every once in a while!
#9 Tacocat Plush
Whatever the hell a tacocat is, we like it!
This has something to do a game called Exploding Kittens and we don't know what that is but we love this little plush.
It's like if you had a taco doll with a cat face on it. There's just no other way to describe it. You also get tiny little cat limbs and ears in the bargain.
#10 Triceratops Taco Holder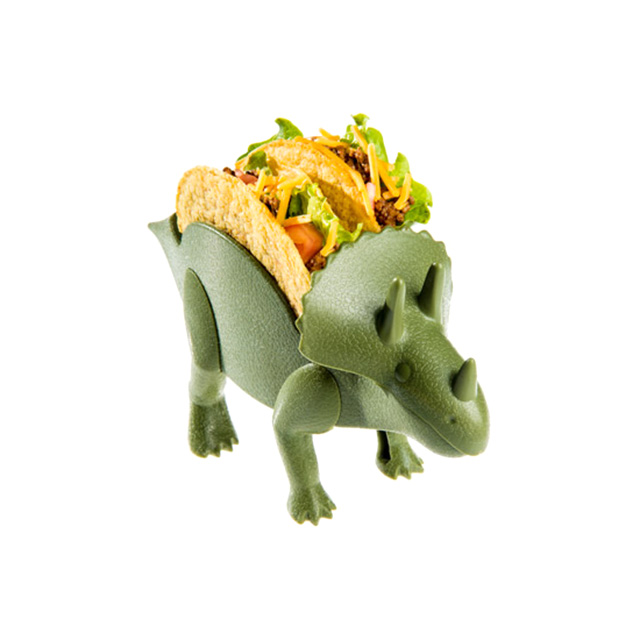 Listen, you're an adult.
You don't need to explain to anyone why you have a special triceratops taco holder. That's between you and your credit card company!
#11 Feed Me Tacos Shirt
Finally, a shirt for the "single and looking" feasters out there.
It's hard for some people to make the first move, so help out your potential soulmate by letting them know exactly how to start up a conversation with you.
"Feed me tacos and tell me I'm beautiful" is more than just a t-shirt. It's a fairy tale romance.
Share this post!