Fall is only a month away and you know what they say: time passes more quickly the older you get.
Also the older you get, the more you want text "hey nevermind" to every plan you made that day and stay home on the couch in your favorite pair of pajamas. Yes, by "older" we mean, like, ages 22 and up.
Let's be real, nobody wants to go out right now. It's been summer for a while at this point and it's time to just chill and maybe do a face mask or something…
#1 Star Trek Pajamas
If you're like everyone else then the first thing you think about with pajama season coming up is what long-running television series are you going to binge watch from the beginning?
All those sweet, sweet streaming content services were made to be enjoyed more and more as the leaves begin to turn.
Perhaps you'd like to consider tackling one of the many esteemed Star Trek marathons?
You could easily spend 20 or 30 hours running through whatever combination of series and movies you like while posted up in comfy USS Enterprise Uniform Pajamas!
#2 Extra Long Tee Shirt
Sometimes pajamas means a really long t-shirt.
In fact, those times are usually the best of time.
Most of you who appreciate a super long tee will have already stolen one from a longer person in your life. Even so, we've gotta recommend you try out a tee that was made for this specific purpose.
This is pretty much a t-shirt made to fit like a dress. It's cute and relaxing to wear!
#3 Comfy Sleeping Pants
And this is pretty much the opposite of the "sleep in a t-shirt" thing.
Pajama pants. That's it. That's all these are.
But they're a really good pair of pajama pants.
The material is right. The wide lace tie is right. Looks good. Feels good.
Get into 'em.
#4 Gryffindor Lounger
A day at home with no responsibilities is magical.
And if you believe in magic then you'll want to know about the hooded Gryffindor lounger. Yes, that means onesie.
Magic wand sold separately.
#5 Hooded Velvet Onesie
Okay, you want the hooded onesie but you aren't in to Harry Potter.
We got you!
This velvet onesie also has a hood and it's just as magically luxurious as the Gryffindor lounger.
#6 Pillow Fighter Cropped Tee
There's a decent chance you're looking at this post to find some "more comfortable" to wear when you lay one of those "slip into something more comfortable" lines on a romantic partner.
This short cropped sleeping shirt can do that for you.
It's also good for anyone sleeping in a hot room because, well, it doesn't cover much.
"PILLOW FIGHTER" on the front and battle emblems let 'em know you're down to roughhouse if they want.
#7 Constellation PJ Pants
Space is the place!
These cosmic sleeping pants are just the thing for a night out in a secluded cabin with a good telescope and no cloud cover. Stargaze for hours and hours – then you can go use that telescope after! (Bad joke.)
This pair of PJ pants has famous constellations all over them…
#8 Sexy Pink Romper
One more for everyone on a sexy shopping mission.
Look at this little pink nightie!
What more do you need to know about it?
#9 Hooded Grinch Onesie
Remember, fall is just around the corner and you know what happens after that: Christmas!
It's never too early to start planning how to be a bastard during everyone's favorite holiday.
The hooded Grinch onesie is what you want to be wearing while doing it.
#10 Nintendo Lounge Pants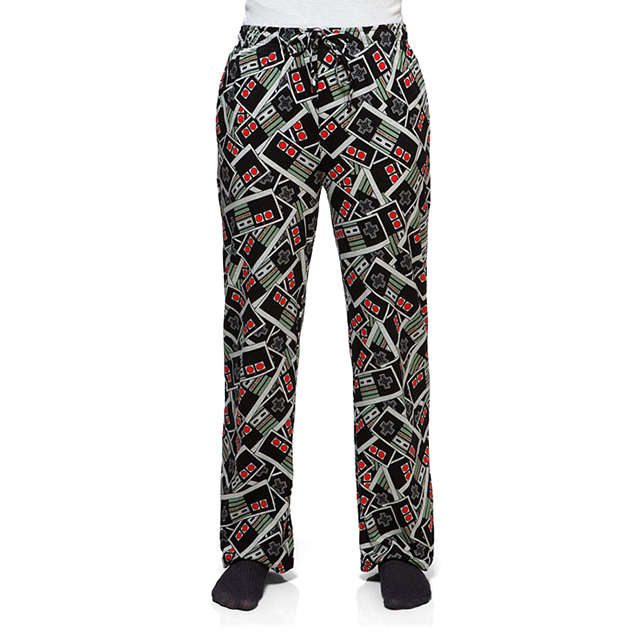 Games, games, games!
There's literally no reason to get dressed if you know all you're going to do that day is play vintage video games.
Nothing wrong with it. We support the decision!
Wear these pajama pants covered in old NES controllers while you play.
Share this post!